Our Current Fundraising Total:
Money Raised to Bring Shiloh Home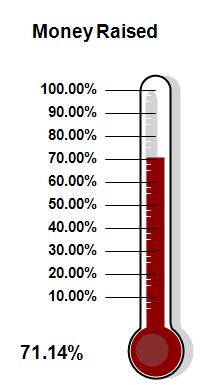 This fundraising total includes (1) Shiloh's individual adoption grant on Reece's Rainbow, (2) our family's FSP fund on Reece's Rainbow, (3) money donated directly to us, and (4) funds we contribute from our savings and our monthly budget.
How You Can Help:
It takes a village to raise a child, and that village is even more important when you are working to bring a child home from an orphanage. We need YOU to help make Shiloh's journey home a reality! Will you be part of our village? We'd love to have you! Here's how.
Pray!
While our material needs are all financial, the needs of an adoptive family go far beyond the material. We are embarking on a roller coaster journey (for the second time!) because we have felt God's unmistakable call to adopt a little boy and bring our son home. We will succeed in this effort only with His guidance and protection.
Specifically we ask that you pray for the emotional and physical well-being of our new son. Pray that he is protected from the loneliness, abandonment, and despair that children often experience in orphanages. Please also pray for Arturo, Shanti, and I as we prepare to welcome Shiloh home. The adjustment period is a time of stress and strain on everyone in the family, not just on the new child, and we know it won't be easy for any of us.
Donate to our Reece's Rainbow page
Reece's Rainbow is a 501(c)3 organization and, as a result, all donations to our adoption grant via Reece's Rainbow are tax deductible. This is by far the easiest way to donate to our adoption efforts, particularly if you are interested in a tax deduction for your donation. All money donated to our Reece's Rainbow grant fund goes toward our adoption, minus PayPal fees when using PayPal. Please visit our Family Support Page to donate online. If you would prefer to avoid PayPal fees and make sure 100% of your donation goes directly to us, donations can also be sent by check. Just indicate "Araya FSP" in the memo line of your check and send it to:
Reece's Rainbow
PO Box 277
Monrovia, MD 21770
Please note that, although all donations to Reece's Rainbow go toward our adoption (minus PayPal fees, if applicable), this money does not become available to us until we travel and cannot be used for pre-travel expenses, such as homestudy fees and immigration application expenses.
Donate directly via PayPal
We take donations 24/7 via our PayPal link. Although these donations are not tax deductible they have the advantage of helping us with our up-front adoption costs immediately. As you can see from the Nuts and Bolts page, our up front costs are considerable. We pledge that all funds donated via this link will be used exclusively for adoption expenses and hope that you will consider making a donation in this way. Please click on the link below to make a donation.
Donate to the Araya Adoption Fund
Attend One of Our Upcoming Events
We have two adoption benefit concerts scheduled during the month of November in two different locations, along with a silent auction that will benefit our adoption efforts. The first benefit concert is scheduled for November 8 at 4:00 pm at Cheviot United Methodist Church in Cincinnati, OH. One week later, we'll present a second benefit concert at Bethlehem United Methodist Church in Moneta, VA. If you live close to either place, I hope we'll see you there! Visit our Events page for all the details.
Shop for Shiloh
We have lots of ways for you to support our adoption with your purchasing dollars, from an Amazon affiliate link to direct sales of our very own Christmas album, and everything in between. Visit the Shop for Shiloh page for a full list of the fundraisers currently open. The ideas on this page are all great ways for you to support our adoption efforts while getting something in return.
——————————–
Thank you so much for your interest in support our adoption. We can't do this alone, and we are so very grateful for your support!
God bless,
Arturo, Jennifer, & Shanti